HOT WHEELS CUSTOM CONTEST WORLD COMPETITION "KING OF CUSTOMS"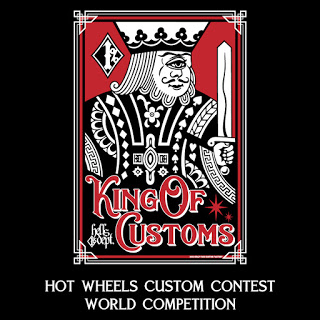 HOT WHEELS CUSTOM CONTEST "KING OF CUSTOMS"
WORLD COMPETITION

SPONSORED BY: KING OF CUSTOM VIA INSTAGRAM


-CUSTOM CONTEST ENTRY CASTINGS-

◆ '67 CAMARO
◆ CONVOY CUSTOM
◆ BONE SHAKER
◆ A-OK
◆ PURPLE PASSION

PLEASE ENTER ONLY WITH THE CASTINGS ABOVE,
ALL OTHER CASTINGS WILL NOT BE ACCEPTED INTO THE CONTEST.

※ENTER AS MANY CUSTOMS AS YOU LIKE INTO THE CONTEST.


CUSTOM CONTEST CATEGORIES-

● MILD
● WILD
● SPICY
ANYTHING GOES!



KING OF CUSTOMS HOW TO ENTER HASHTAG

-HOW TO ENTER-

1: PLEASE FOLLOW HELLS DEPT Instagram (@hellsdept_official)
2: TAKE A PHOTO OF YOUR CUSTOM AND ENTER THE CONTEST VIA INSTAGRAM HASHTAG # BY YOUR CASTING.

A: #kingofcustom67camaro
B: #kingofcustomconvoycustom
C: #kingofcustomboneshaker
D: #kingofcustomaok
E: #kingofcustompurplepassion



CONTEST DATES-

THE CONTEST WILL CLOSE IN THE MIDDLE OF DECEMBER 2020.
(29th of July to Middle of December.)
(We will post the date on Hells Dept. web.)


Larry Wood a.k.a. "Mr.Hot Wheels" Signed Trophy will be presented to the 1st and 2nd place in the Contest!



LET's SHOW AND DECIDE THE No.1 CUSTOM OF THE WORLD!